In August 2022, a new version of VisitReport Dashboard will be released, which includes some fundamental improvements.
Templates are now called Events
Admittedly, this change is not new at all; it was introduced back in May. The term "template" dates back to the early days of VisitReport and no longer fits the now extensive functionality. Therefore, templates are now called "Events". They each contain a questionnaire, collected reports and other features. The familiar workflows and your existing templates remain intact.
Home page for events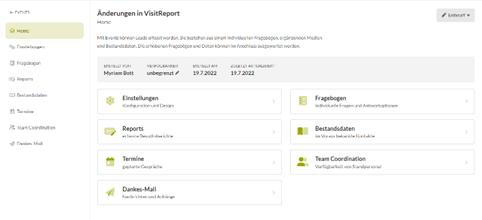 The update includes a new "Home" page for events. Here you get at a glance information about the status of your event and a quick access to the most important settings and features.
In the future, more functions (e.g. analytics) will be added here.
Status: Draft, finalized and archived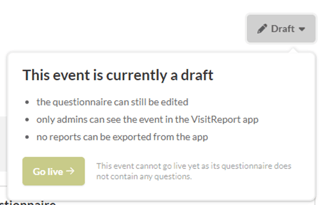 In the future, you will be able to change the status of your event (i.e. draft, finalized and archived) centrally on the "Home" page.
Also new: Finalized events will be marked with the status "live" in the future. The additional description informs you about the exact meaning of the current status for your event.