There are several ways to collect a visitor's data. Here you can learn which ones there are.
To start a new visit report in the app, snapADDY offers the following options: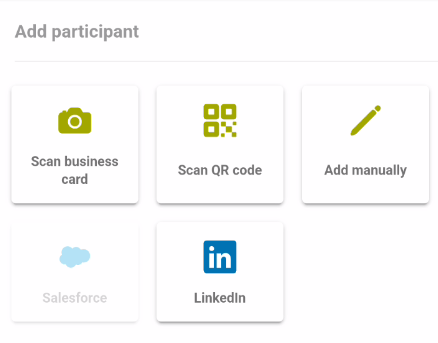 Scan business card
Select contact from inventory data
Scan QR* code
Add contact manually
Select contact from CRM inventory data (Salesforce, Dynamics 365, SAP Sales Cloud, Sugar CRM, HubSpot & Pipedrive)
Select contact from LinkedIn
*QR Codes

There are two types of QR codes: standard codes and custom codes. Standard QR codes can hide a VCard data structure, which is read with our app. These codes also have a specific structure.

On the other hand, Custom Codes are internally generated and do not match the standard, such as a QR code or barcode on a trade show badge. Visitor badges can therefore only be read in special cases. If you are interested in this feature, please feel free to contact snapADDY Support or your:n Customer Success Manager:in. Please read our article on badge scanning beforehand.
If you have any further questions, please feel free to contact support@snapaddy.com or your:n Customer Success Manager:in.