You can connect your CRM system directly to VisitReport and start an report with a contact.
This features helps you to establish a connection to your CRM system via the VisitReport app and afterwards you can directly search in your inventory data for the contacts and accounts in the system.
The biggest advantage of this feature is that you do not need to scan business cards anymore or upload a local list with inventory data to the event. You can start a report with the desired contact and account directly in the app.
⚙ How can I connect to the CRM system in the VisitReport app
Open your event in the app

Open the settings in the right upper corner

Press on the field CRM and choose your CRM system

After the connection has been established, please start a report and choose your CRM system as a source.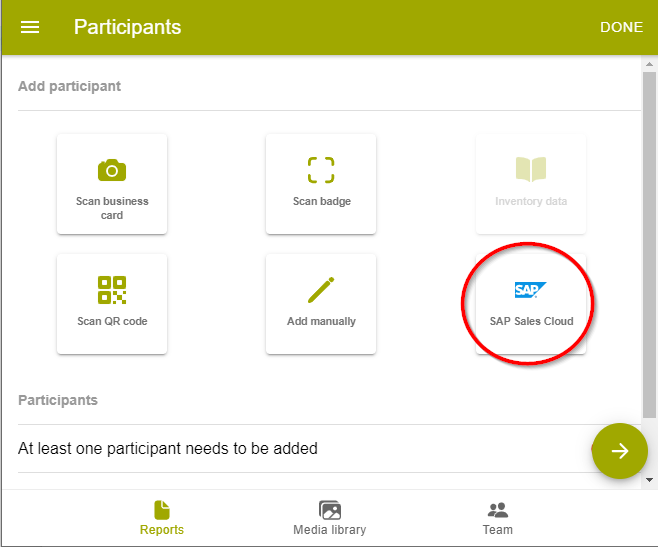 5. Enter the name of the contact or account in your CRM and choose the desired entry.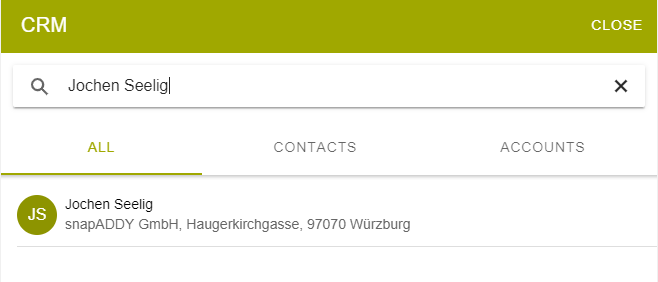 💡 Frequently asked questions
1. Which CRM systems are supported in the app?
At the moment we support the following CRM systems: Salesforce, Dynamics 365 (On Premise and Online), Pipedrive, SAP Sales Cloud, Hubspot and Sugar CRM. An extension of the list is planed for the future.
2. Can I use the retrieval of the inventory data without an internet connection?
No, unfortunately not. For the connection to the CRM system and searching in the inventory data, the app requires an internet connection.
3. Can I export the reports from the app directly to my CRM system?
The reports from the app can not be exported directly to the CRM. They can be forwarded to the VisitReport dashboard as usual and from there to the CRM system.
4. What happens, if I still decide to use the local inventory data while uploading a excel sheet to my event?
You can continue using the local inventory data function in the app. This helps you to have an access to the inventory data also in an offline mode. The local inventory data and the connection to the CRM system are separate features and can be used individually or in a combination.