The Team coordination feature helps you to keep tabs on the availability of your booth crew during the event and view individual profile details of the people involved
Important: The team coordination function is available only for named licenses!
The booth crew can set their current availability status from the app or the Admins and the Event managers in the organisation can set this up from the dashboard.
How to activate the Team coordination function?
Go to the dashboard and open the Event you want to use

Open the settings of the Event

Set the checkbox on Activate team coordination.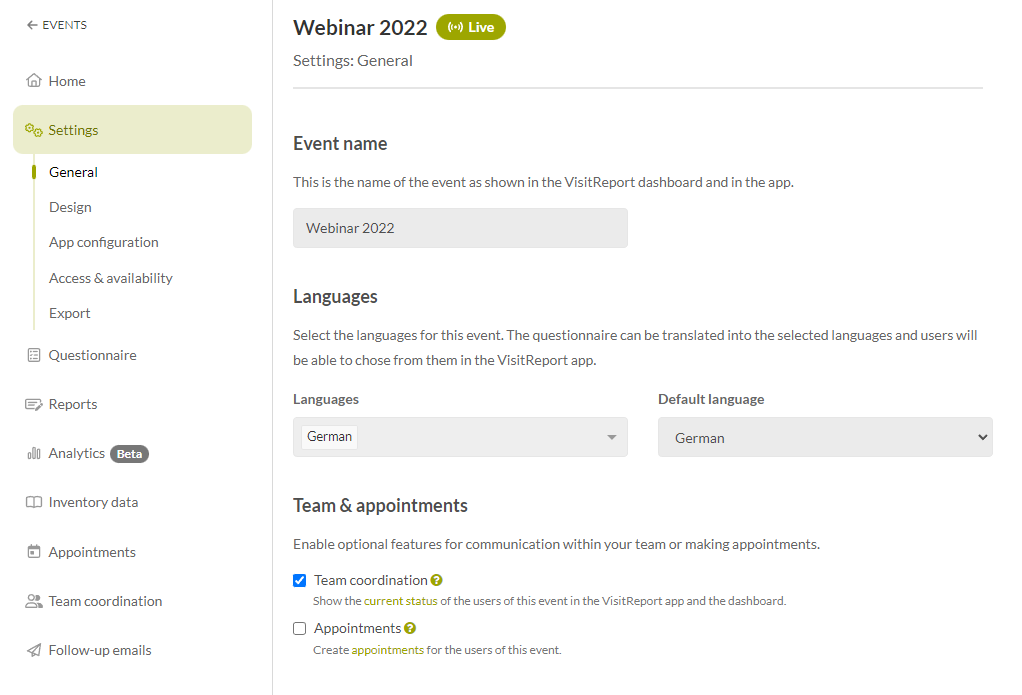 How to manage the team coordination from the backend?
1. While opening the overview of all your events in the dashboard, on the right side you can find the button Team coordination.



2. By opening the Team coordination, you will see a list of all the users in your organisation or a specific list of the booth crew, if the booth crew was
preset
in the
event
.

3. The Status can be changed between Available, Busy, Not Available and Signed out. The Status is synchronized with the app of the users. If the user changed the status in the app, the changes will be automatically applied in the dashboard and vice versa.
4. The personal user information in this list are taken from the profile management of the users. The users can manage their profile only by themselves here.
5. The custom fields*, that are shown next to the contact information can be also fulfilled in the profile management of the users.
These custom fields should be previously defined in the organisation management → Manage custom profile fields by the Admin.
The custom fields will be available for all users of your organization as additional fields in their profile management.

Supported field types: Text fields, Single Select and Multi Select fields.
How to activate the Team coordination function from the VisitReport app?


Open the app and open the event, for which the team coordination function was previously set up.

The app will prompt you to set your team coordination status.

Click on Logged out or Available.

Under the Team tab, you will find the complete list of your organization's booth crew. Here you can set your current availability status at any time and contact your colleagues by phone or SMS.